FLOYD 77 UPDATE
Recreating the 'In the Flesh' tour
In conjunction with 'Ultimate Setlist Live', this is a recreation of the set that Pink Floyd toured in 1977. It includes all tracks from what was their latest album, 'Animals' plus the whole of 'Wish You Were Here'.
16th of March in Birkenhead saw our first date airing the 'Floyd 77' set and the response was phenomenal. It has since been gigged at The Brook in Southampton and Mr Kyps in Poole to similar reactions.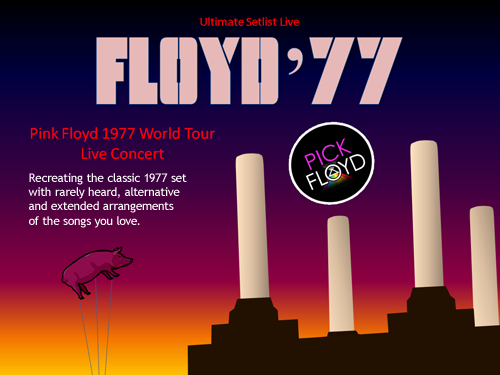 What's unique about this set is the live arrangements of the songs ... many of which were rearranged, extended and jammed. ... We're sticking faithfully to these arrangements and the spirit of the 77 show. This is very recognisably Floyd but with a raw edge and energy that is very different from the precise renditions you may be used to.