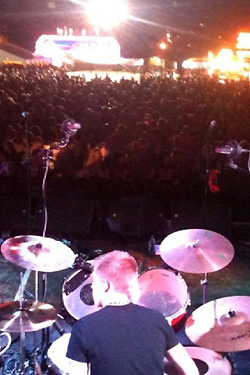 JAY ROBERTSON
Drums
Music Background
I had my first drum lesson at the age of 6 or 7 and have been playing pretty consistently since. Have been gigging for the past 10 years with quite an eclectic mix ranging from punk to subtle acoustic to classic rock.
Favourite Floyd Album
I grew up mainly on Dark Side, Wish You Were Here & The Wall and didn't discover any of the rest until later. I would probably have to say that Dark Side of the Moon is my favourite, but I'll still never forget my first time listening to Shine On, in the dark with my eyes closed - completely mesmerising and utterly unforgettable.
Most memorable gig
Playing the music of Pink Floyd to around 5,000 people at the 2011 Gosport Festival.
Favourite bands / influences
Pink Floyd (obviously), Deep Purple, Thin Lizzy, Dream Theater, Porcupine Tree, Easy Star All-Stars, The Living End, Strung out, A Wilhelm Scream, Muse to name a few...

Influences: Nick Mason, Gavin Harrison, Travis Barker, Ian Paice and Mike Portnoy.
Equipment
The heart of my kit is a Ludwig 400 from the 1970s that I managed to pick up a few years ago in Los Angeles. Other than that, depending on what I'm doing, I change between 4, 5 and 6 piece kits and have a mixture of Sabian and Paiste cymbals.