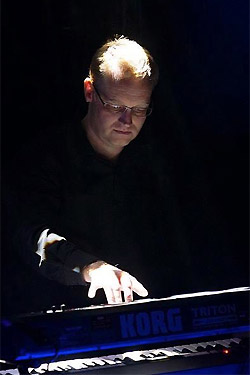 GRAEME WALLACE
Keyboards
Music Background
I actually started my musical career learning the ukulele from around 4 years old however that guitar type stuff certainly wasn't for me, so from there I progressed to playing a little Bontempi Organ. Under mothers orders I was ordered swiftly to play the piano. I did all the grades exams and so forth (kept the family happy) but I just wanted to perform, write and rock out...Started my first band at 16 while at school, playing the end of year gig was special. However, it wasn't until I was 22 when I joined the 'Sarah Harrison Band' a local band with a lot of success. I then co-founded 'Tarentella' great funk outfit which in turn lead to starting fun times in my co-creation 'CoolMadina' and was locally produced by the fantastic Mark Hill from 'Artful Dodger' fame.

A brief hiatus followed however found myself in local soul band 'Big Brother Soul' backing none other than the late, great James Brown, what an honour. When BBS came to it's natural end I joined 'Perfect Alibi' in 2005 and have recently toured the world with 'The Spirit of Pink Floyd' never will I forget the experience.

Now it's time...for 'Pick Floyd'.
Favourite Floyd Album
Division Bell (Met my wife in year of release)
Most memorable gig
Mr Kyps, 3rd December 2005
(My son was born just hours after show)
Favourite bands / influences
Pink Floyd, Incognito, Billy Joel, Stevie Wonder, Early Elton John, the late great James Brown to which I was honoured to play on the same bill as him back in 2001, Christophe Maé, Chopin, Beethoven. Above all I pretty much respect all music.
Equipment
Roland RD300NX Stage Piano, Hammond XB1, Korg Triton Extreme, Novation K Station, MacBook Pro running ProLogic 9/MainStage, Roland Cakewalk UM-2G Midi Interface, Roland Cakewalk UA-1G Audio Interface and Behringer Eurorack Pro RX1602