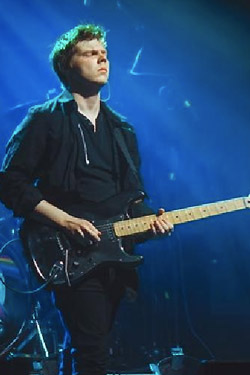 "When Calum was studying at BIMM, he demonstrated his natural flair and technical ability as a guitarist to a high level, while following his path in developing his personal musical passions"
Jim Williams, Head of Guitar at BIMM
CALUM ROBERTSON
Guitar
Music Background
I've been been playing guitar since I was 12 or 13 and gigging since I was 15. I studied music, firstly at Southdowns College in Portsmouth and then BIMM in Brighton and was also a founder member of the punk band 'Hung Up' in Hampshire and have written and recorded 3 CDs with them.

For those of you still wondering, I'm Alan's son (although the suggestion for me to play with the band came from someone else!) .... and we've gigged together many times .... mostly as the 'strictly unrehearsed' Wheels of Fire who play classic rock ... which has always included Pink Floyd material.

I jumped at the chance when asked to play with Pick Floyd!

Since 2013, I've also been doing major European gigs with The Pink Floyd Show UK. It's a HUGE production and is great to be part of. Unfortunately this means that I'm less available for Pick Floyd gigs.
Favourite Floyd Album
This changes all the time. I grew up with them all although The Dark Side of the Moon probably has had the biggest impact. Probably more of a fan of the band while Roger Waters was still there.
Favourite bands / influences
Pink Floyd, Rush, Deep Purple, Tool, Porcupine Tree, Opeth, Field Music, The Mars Volta, Muse. Guitarist influences have been David Gilmour, Gary Moore, Jimi Hendrix, Eddie Van Halen, Ritchie Blackmore, Snowy White, Paul Gilbert, Devin Townsend ...
Equipment
My main guitar is a custom built Strat. It was made to my spec in 2005 and has a Wilkinson tremolo and Bareknuckle pickups in HSS configuration. I can split the coils in the humbucker to make sure I have the authentic Strat sound. Recently I swapped to a black body. I also have a 1968 reissue Strat that is tuned down a tone for 'Dogs' and a Martin 12-string acoustic.

My amp is a Marshall JCM800 4212 ... I've tried others and always come back to this one ... its a bit battered now from years of gigging but still sounds sweet. On European tours recenltly I've been using a Mesa which is a fabulous amp. As for pedals, I think I suffered from GAS (gear aquisition syndrome) for a while .... I have a ton of tasty pedals all fighting for space on my pedalboard with some nice new additions that get me even closer to that classic Gilmour tone.