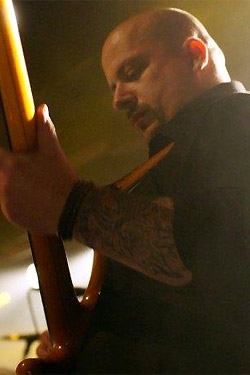 BRETT COX
Bass & Vocals
Music Background
Classically trained pianist playing since aged 5. Played everything from Jazz to Metal on keys, guitar, bass and drums.
Favourite Floyd Album
Depends on what we are rehearsing. If we are working on something new I tend to O.D on that album and that becomes my fave. Right now Animals!
Most memorable gig
Performed: So far my 21st birthday party (very drunk) or a production of West Side Story (not sure which) or the Gosport Waterfront Festival 2010.
Watched: Iron Maiden, Prince, Slash, Metallica, Skunk Anansie
Favourite bands / influences
Pink Floyd, Freddie Mercury, Queen, The Beatles, Skunk Anansie, Joe Satriani, Jamoroquai (Stuart Zender), Guns N Roses, Mr Big (Billy Sheehan), Radiohead, Robbie Williams, Foo Fighters, Pearl Jam, Bon Jovi, Honeycrack.
Equipment
Basses - '62 Fender Jazz Bass, Warwick Corvette $$ NT, Adam Black Electro Acoustic

Amplifier & Effects - Trace Elliot and Warwick cabs, 1k power amp, Line6 POD X3 Live, Boss OC-3, Brace digital wireless.