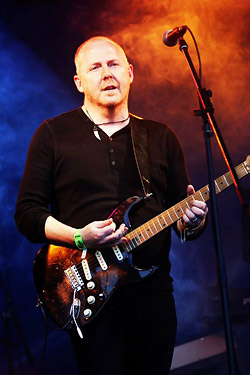 Facebook:
/alanmrobertson
Twitter:
@alanmrobertson
Website:
alanmrobertson.net
ALAN ROBERTSON
Vocals & Guitar
Music Background
I've been playing guitar as long as I can remember and singing even longer. I've been in bands since I was 17 and had already played a few Floyd numbers before in sets. Now its great to get the chance to tackle them all. I started playing Pink Floyd material exclusively in early 2010, initially with Perfect Alibi and now with Pick Floyd.
Favourite Pink Floyd Album
Hard to single out one .... probably The Wall followed jointly by Dark Side of the Moon (which I remember my brother Alastair getting when it first came out) and Wish You Were Here, although material from all eras has been an influence.

Favourite Bands & Influences
From my early teens, Pink Floyd and Deep Purple shaped my musical life along with a smattering of Thin Lizzy, Lynyrd Skynyrd and Bad Company. These days I listen to tons of really varied stuff but I always end up back with the classics. Vocal influences have included Paul Rodgers, Ian Gillan and Joe Cocker. I have particular love of Roger Waters' voice ... not the purest of singing voices but he has a passion and desperation (probably from the deep personal nature of the writing) that is captivating. On guitar, my influences have been mostly bluesy which clearly would include David Gilmour, along with the likes of Eric Clapton, Peter Green, Snowy White, Mark Knopfler, Gary Moore and Ritchie Blackmore.
Equipment
Electric Guitars - My old and battered mongrel black strat remains my first choice .... I got it in about 1979 and most parts have been replaced since then. It was originally natural but got resprayed black about 15 years ago. More recently the pickguard was swapped for a black one to be more true to DG. The neck pickup is a Seymour Duncan Vintage Strat (bought in 1981), the bridge one is a DiMarzio Vintage Strat (from 1982) and the middle one is Fender. In the mid-80s I experimented with humbuckers and active circuitry but these days it is (thankfully) back to classic strat configuration.

I have a few other guitars including a Strat with on-board Roland electronics and an Ibanez Roadstar from the 80s but I'm rarely without the black one.

Acoustic Guitars - I have a Martin Acoustic in standard tuning and a 1970s Eko Ranger which is either tuned to Gilmour tuning (a modified Nashville/highstrung tuning) for 'Hey You' or down a tone for Dogs.

Amplifier & Effects - I recently moved to Blackstar amplifiers from nearly 30 years of using Marshalls. Their tone is superb. As for effects, I have an array to choose from. I try to keep the pedalboard as simple as possible (hard in a Floyd tribute!) but the 'usual suspects' are all there .... compressor (MXR Dynacomp), distortion (Little Big Muff), overdrive (Boss BD-2), phaser (MXR Phase 90 vintage re-issue), flanger (Mooer MFL-1), chorus (Boss CE-3), delay (t c electronic ND-1), Volume (Ernie Ball) ... and wah for the 77 show.